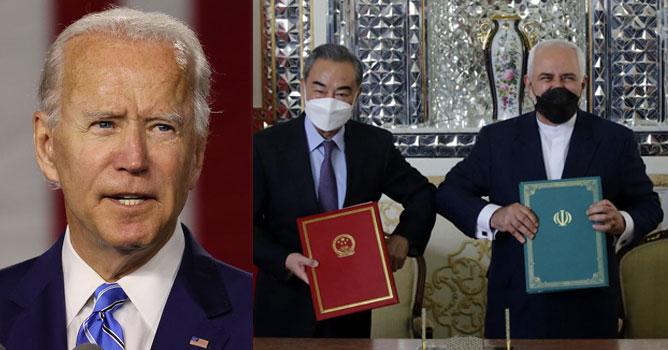 China and Iran sign a 25-year strategic agreement; America staring
Beijing: Iran and China sign a 25-year strategic cooperation agreement. The agreement will pave the way for large Chinese investment in Iran's infrastructure and energy sectors.
According to Iranian media reports, Chinese Foreign Minister Wang Yi has said that the current situation will not affect China's relations with Iran, but that diplomatic relations will continue to be stable.
Wang Yi added that unlike some countries that change their position with a single phone call, Iran makes independent decisions about relations with other countries. Before signing the agreement, Wang Yi met with Iranian President Hassan Rouhani.
Negotiations on the agreement between China and Iran began five years ago. But the secretive nature of the negotiations on the contract caused great controversy. Last year, many people came out against the deal. No details of the content of the contract have been released yet.
Meanwhile, Rouhani's adviser Hishammuddin Ashana said the cooperation agreement between the two allies was an example of successful diplomacy. He added that the strength of a country lies in its ability to join alliances without standing alone.
Iranian Foreign Ministry spokesman Eid al-Khatib al-Sadat said the document was a roadmap for trade, economic and transport cooperation, and that the agreement was aimed at the private sector in both countries.
China was the largest trading partner buying oil from Iran. But in 2018, then-US President Trump announced sanctions against Iran.
The sanctions against Iran came after the United States withdrew from the Joint Cooperative Plan of Action (JCPOA) nuclear deal in 2018.
China's Commerce Ministry said on Thursday that it would work to protect Iran's 2015 nuclear deal with China. China has said it will seek to protect its interests in relations with Iran.
With Joe Biden taking office, it was expected that the nuclear deal with Iran would be reinstated. But disputes between Iran and other treaty nations, including the United States, continue.
Iran has said it will lift US sanctions first. But Western nations have called on Iran to withdraw from the nuclear deal first. Meanwhile, the United States is reportedly monitoring China's agreement with Iran.
DoolNews can also be followed through Telegram and WhatsApp. Our YouTube channel for video storiesSubscribe to
Click here to financially support Dolnews' freelance journalism

Content Highlight: Iran and China sign 25-year cooperation deal