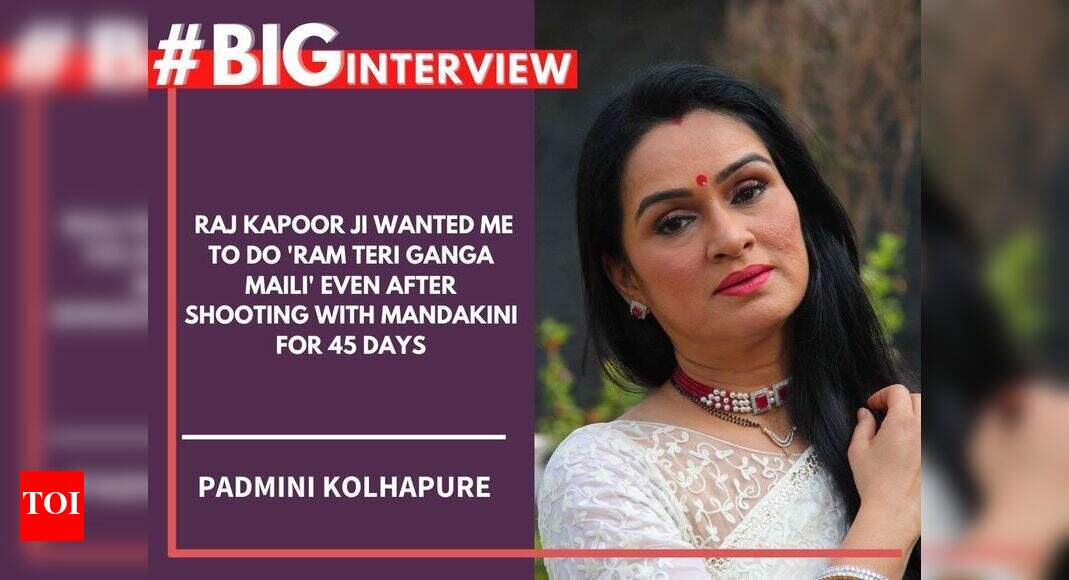 Padmini Kolhapure has had a brilliant career in cinema. She was one of the very few actresses in Indian cinema who could cry over her grief in her on-screen characters. A few days ago, his son Priyaank married Karim Morani's daughter, Shaza. And would you believe it, the newbie stepmom is currently doing a web series! The time had come to catch up with this lava of talent for a tête-à-tête. ETimes had been there for a long time and finally Padmini took time off from her recent hectic life to do our #BigInterview. This is exactly how the conversation went. Read on …
Congratulations on Priyaank's wedding! How does it feel to have a daughter-in-law at home?
Priyaank and Shaza have just returned after a series of functions and celebrations, including the one we had in the Maldives. Honestly, it feels good to have Shaza in the house. In between, the son of Mohammed Morani (Shaza's uncle) got married in Goa. So, it's been too hectic lately. Abhi tak thakavat bhi gayi nahi hai (we are still tired) (laughs).

But that said, Shaza is like a girl to me. It is a blessing in the life of Sharmas. I could not have asked for better as my son's wife. It's been a long love story. I knew it from when they were in school. Then Priyaank went to the United States for an acting class. Shaza was also there, she was at New York University at the time. While I was there to set up her place, it was in fact she who managed almost everything; this trip turned out to be a vacation for me.
Your son fell in love when he was too young, 14 or 15 if I'm not mistaken. Do you have an objection?
When does the parent of a child react in such a situation? It does happen, but it only happens when he feels that his child has chosen the wrong person. Shaza has integrated our family seamlessly from the word "go". If I couldn't call Priyaank on the phone every now and then, I would call Shaza without any stress in my head because I knew she would always be aware of his whereabouts. They were so thick that there was no need to call anyone else, and like I said, what better could I have asked for?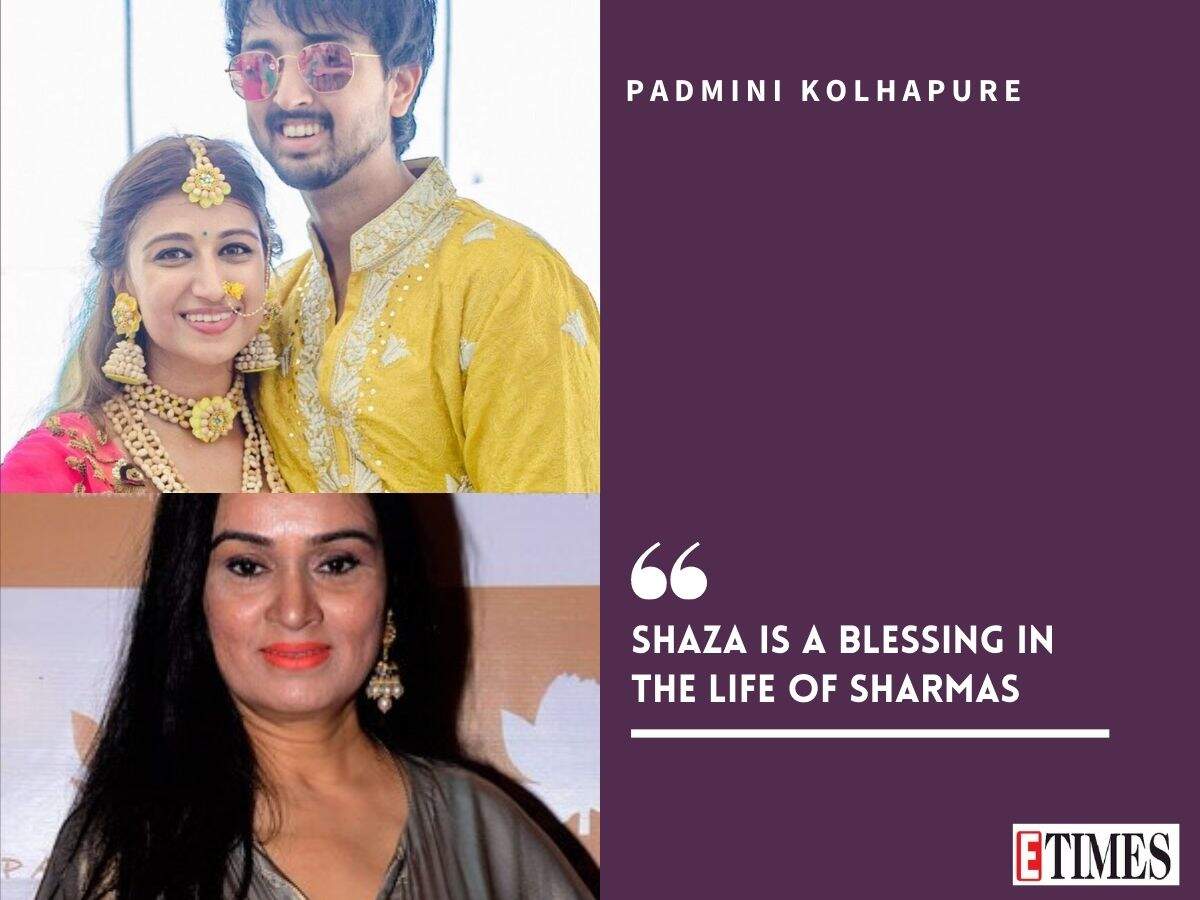 Your road dance in the Morani house on the wedding day took us by surprise. Haven't you always been a very shy person?
No, I am not very shy. In addition, the beating of the drums led me into an atmosphere where I felt I had to dance. I could not resist. Besides, I love to dance. But I think it was the boundless happiness on occasion that did the trick.
You have donned a very different green, unlike the usual reds and creams that are used around weddings …
Yeah, but it wasn't green per se. It was more on the bluish side. I received a lot of compliments and everyone seemed to like it. To tell you the truth, Shraddha Kapoor, Pankaj, Tejaswini, Siddhanth … we were all in shades of blue and had coordinated colors. All said and done, it took me about three months to put everything in place. The most difficult costume to make turned out to be Priyaank's sherwani and Shaza's mother sharara. Shaza Lehenga's love affair and her white wedding attire also took time.
Did Karim Morani and his wife become emotional at bidaai?
There was no bidaai as such. But Karim Morani's eyes were very wet at the white wedding, but it's okay. We are all happy, it's so nice that both families – Sharmas and Moranis – are in Juhu. So Shaza is not far from his parents.

We will return to Priyaank. But let's go back for a while. You have had several exceptional performances to your credit. Looking back, do you regret not having done "Ram Teri Ganga Maili"?
I was offered the role of Rati Agnihotri in "Ek Duuje Ke Liye", the role of Rekha in "Silsila" and the role of Sridevi in ​​"Tohfa", but I couldn't do them for one reason or another. You can't capture every movie that comes your way. If a movie is as successful as "RTGM", you feel like you should have been a part of it. "RTGM" worked really well, Mandakini did a good job, the songs were wonderful. But then Rajji knew my inhibitions. He knew exactly why I wasn't doing it.
You didn't want to do this daring scene (where Mandakini is feeding her baby) …
This daring scene was never going to be part of the movie when I told Raj ji about it.
If the feed scene wasn't the reservation, then what was the problem?
I didn't want to do the kissing scene.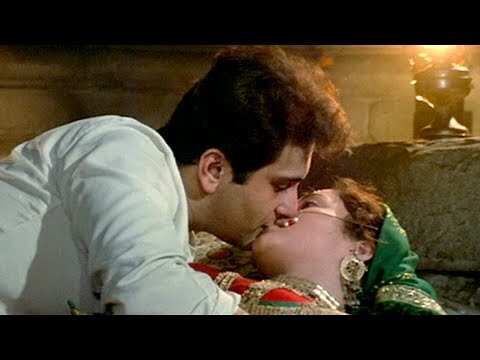 With Rajiv Kapoor?
Nothing about Rajiv, it was just that I wasn't comfortable kissing on screen. But yet, Raj ji asked me to reconsider this even after completing a 45 day program with Mandakini and others.
Which meant he was ready to remake the parts he had shot with Mandakini for a month and a half?
Yes.
Have you reconsidered?
Not really. At that time, I had engaged in other films.


Was Rajji mad at you after that? Did he give you "Heena"?
No, he wasn't upset. I would have loved to make all the other films he made. And no, he didn't offer "Heena" to me. By the time "Heena" arrived, I think I was married.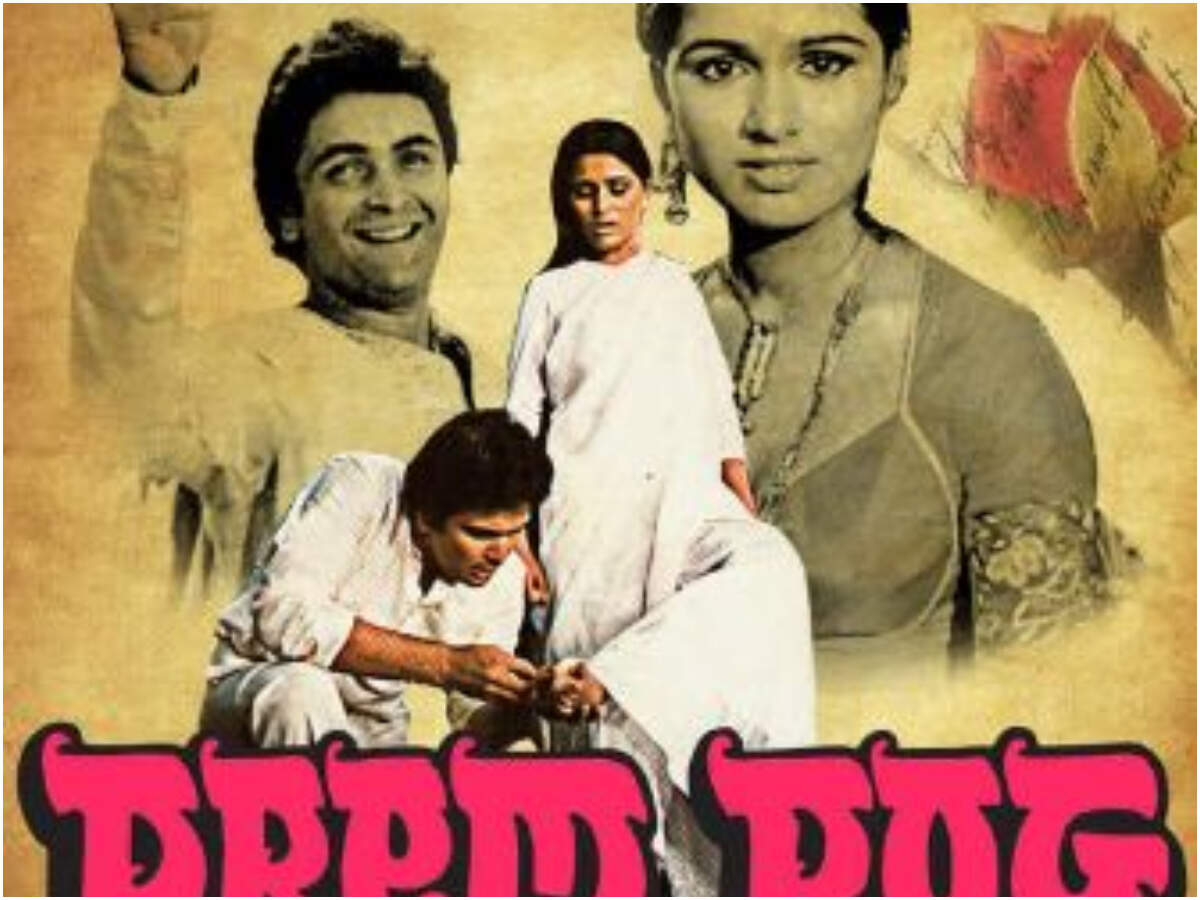 Which role has been the most difficult in your career so far – "Ahista Ahista", "Prem Rog" or whatever?
Good question (stops and thinks). Nothing was really difficult because I was part of films as a child artist, so I had integrated into this profession in a transparent way. But I hated if I was given my lines at the last minute. As happened in "Yeh Ishq Nahin Aasaan" opposite Rishi Kapoor; heavy lines in Urdu, two full pages! I told them there was no way I could do it that way.
There was no PR or social media mechanism in your heyday. How did you deal with this when you were linked to Raj Kapoor, Nasir Hussain and, it seems, Rajiv Kapoor had fallen in love with you …
Today people have little or no intrigue about the life of an actor. The actors are all there themselves, with the photographers clicking happily. But how many times are you going to write the same thing that you've seen 20 times? How often are you going to post pictures that say the same thing? Anyway, to come to your question, these were all false rumors. And false rumors die quickly. It is not necessary to address them. This is exactly what happened to the stories you are talking about.
Which actor were you a big fan of?
Rajesh Khanna; I was waiting at the airport to catch a glimpse of him.
Were you intimidated to work with Dilip Kumar, Sanjeev Kumar and Shammi Kapoor on "Vidhaata"?
No, I knew Uncle Shammi well because I was always with the Kapoors at their parties. And I had no butterflies in my stomach working with Dilip saab and Sanjeev ji. I think I was not intimidated because since I was a child I have worked with pillars like Nutan aunty, Rajendra Kumar ji and Dev saab.
What about Raaj Kumar when you worked with him in 'Ek Nai Paheli'? He was a moody person …
Yes, he was very brooding, but I never got to see his moods.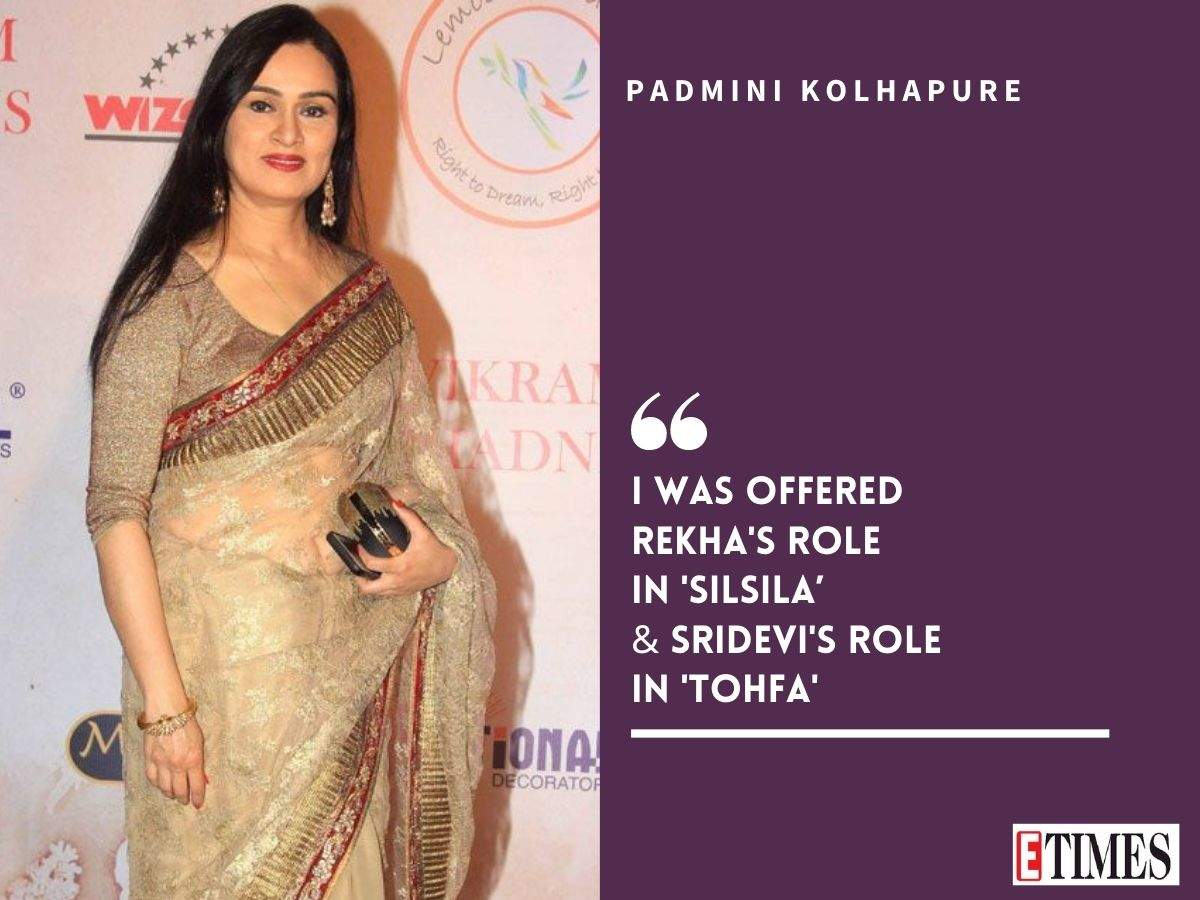 Which of your heroes have you kept in touch with?
Anil Kapoor, Jackie Shroff, and from time to time, Mithun Chakraborty. I never had a problem with anyone. Whoever I meet, we start talking like best friends and I connect with them from where we left off.
Have you been in contact with Sanjay Dutt? It hadn't been much earlier this year. You worked with him in 'Vidhaata', 'Bekaraar' among other films …
Baat nahin hui (I did not speak to him). I felt he must be under a lot of pressure. My prayers are always with him.
How was your 33 year marriage to Tutu Sharma?
It was fantastic, knock on wood. The credit goes to my husband. He has never been a difficult and demanding husband. It is not at all easy to marry an actress who is a star and who enjoys adulation very much. Life would have been very hard if my husband hadn't understood me and my job. He always left me alone, he never said I had to change.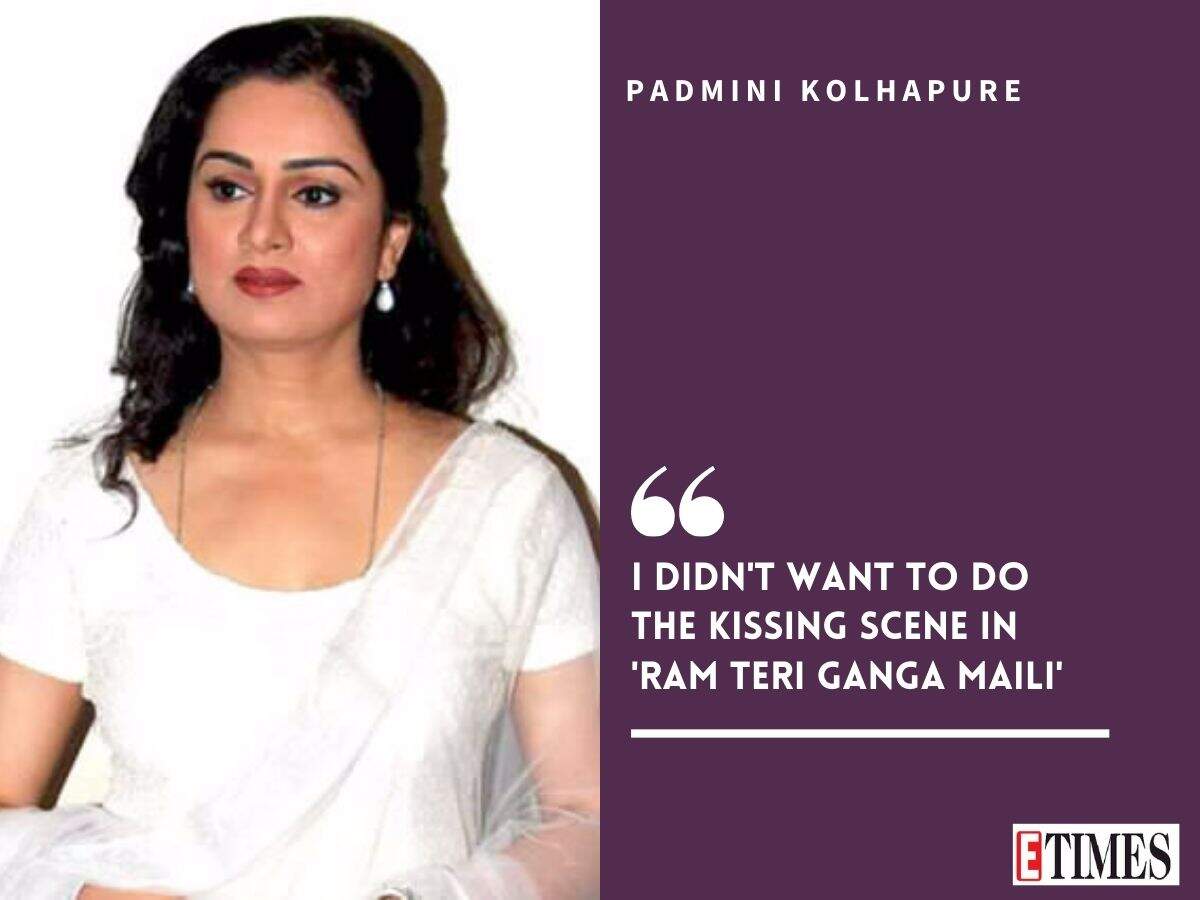 You have won awards for "Prem Rog", "Ahista Ahista" and "Insaaf Ka Tarazoo". Were you disappointed that you didn't get it for "Souten" and "Pyar Jhukta Nahin"?
By then, I had started doing too many commercial films and there was nothing in these projects that I should be rewarded for. Surely there is no rule of thumb that every actor should receive an award every year.


Do you think the film industry is a tough place for young people today, including your son?
Competition has increased in all industries, not just in movies. The opportunities may have increased too, as has the number of players. Add that to the pressure from someone who needs to have social media followers to make an impact. Add this to the Like requirement for your posts to create awareness.
Would you call the need to create ripples on social media like madness?
It's a bubble that will burst any minute. Having said that, it is very essential these days that your EQ (emotional quotient) is high; you have to be mentally very strong to face today's world.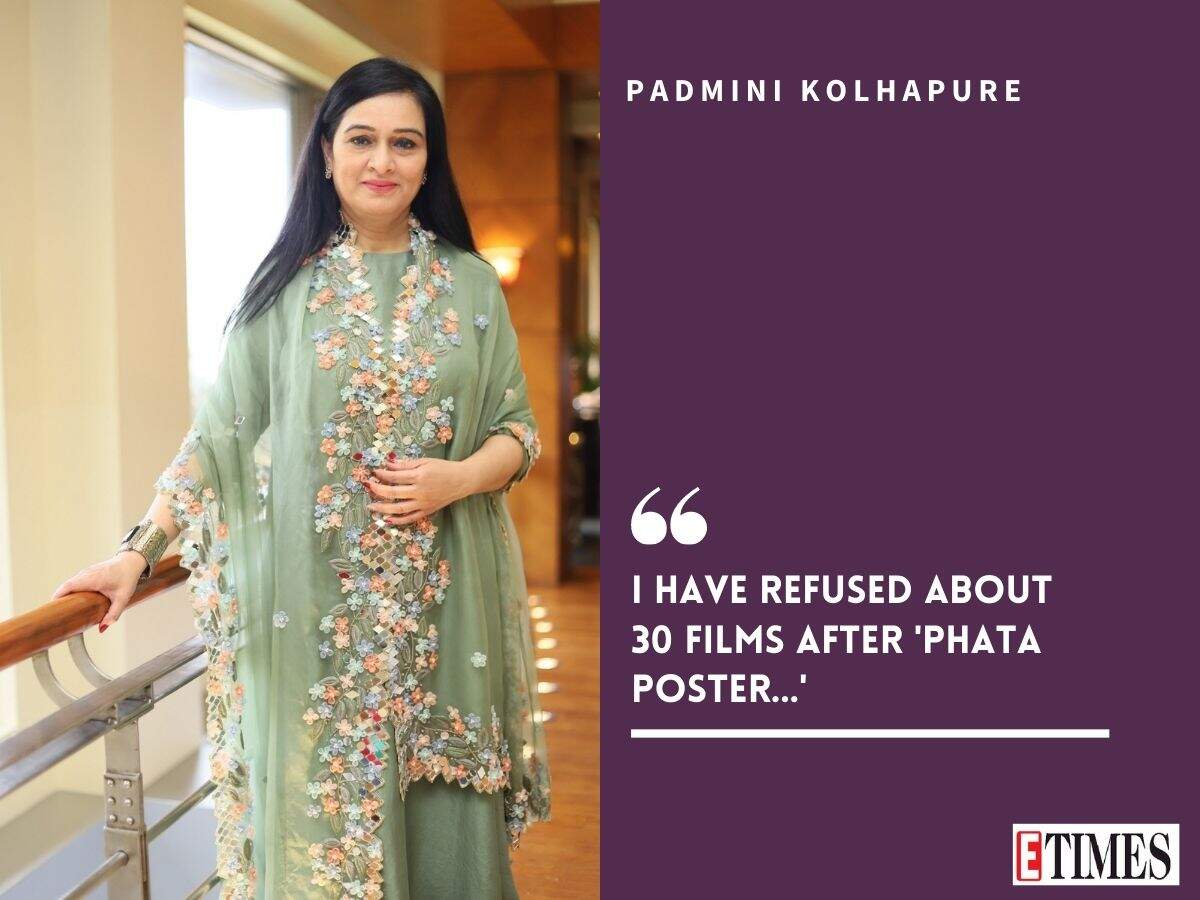 Neena Gupta told us in her interview that mother roles in Bollywood still don't have enough meat …
Nothing pivotal is written for actresses my age.
So, has this made you turn down a lot of movies after "Phata Poster Nikhla Hero"?
About 30.
Your opinion on today's films, in general …
Too much shine, very little soul.
Were you satisfied with "Phata Poster …" and "Panipat"?
I knew what my role was in "Panipat". Of course, it hurts if a movie doesn't perform at the box office. But what's also important is who you work with. Working with Ashutosh and (Rajkumar) Santoshi is a dream. I would love for my son to be led by Santoshi someday.
You did not work with Mr. Amitabh Bachchan …
You said it! Fingers crossed, it's going to happen.

Have you recently been in contact with Lata Mangeshkar ji?
We chatted for 45 minutes recently. She wrote my son a lovely note with her own handwriting for his wedding and even sent him gifts.
Back to Priyaank. If we weren't in the pandemic, surely you would have taken Priyaank and Shaza to Lata ji at her residence on Peddar Road to bless them?
You said it, again!