Manikuttan shared his memory of Rinoz through a post he shared on social media. It's been a year since you said goodbye to us. I still go through your memories .. I will never forget you, said Manikuttan. The actor has also shared a picture with Rhino. The post soon went viral on social media. Then Bigg Boss star Dimple came up with the comment.
Dimple was Manikuttan's best friend at the Bigg Boss house. No one will ever forget the face of Dimple who cried when he left the Manikuttan show. Similarly, when Dimple went out and came back after the death of his father, he was sure that no one would soon forget MK who had embraced him. Dimple Manikuttan's comment on the film was a touching note.
When millions of people see you in love, Rhino will be the happiest today. Your friendship will always be remembered. Dimple said the relationship will be remembered by the world forever. Dimple's sister Monday Bhal also commented. Many people have responded to Dimple's comment. According to social media, Dimple is Manikuttan's best friend since Rhino.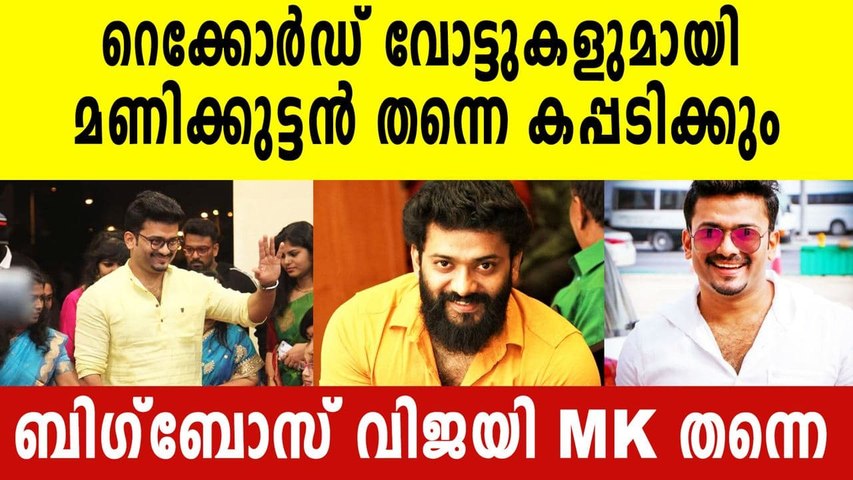 Bigg Boss Malayalam Season: Why Manikuttan Will Win The Season 3 Title With A Big Margin?
But in the meantime, someone's response to Dimple's comment has become the subject of much criticism and Pongala. Manikuttan came to the field when he was seventeen years old. The spot had a lot of fans back then. Some people liked Manikuttan. Screen space has been shared with many legends. MK's front is that proud. Manikuttan Chettan himself told the story when it was told. It's true that after coming to Bigg Boss, the fans also increased. But it was not only from Bigg Boss that the spot got moments to be proud of. What we all know and love about you will be at Bigg Boss. MK is not like that. That was the comment of the worshiper.
With this, many criticized the worshiper. Many people came forward criticizing Dimple for not understanding the meaning of what he said and for not saying anything here. With this, the comment section witnessed big word wars. The responses and reactions are going smoothly.
Meanwhile, the audience is still waiting to know who will be the winner of Bigg Boss Malayalam Season 3. The winner will be decided by voting after the show has to be stopped unexpectedly. Voting was held for this. But the event to announce the winner has not yet taken place. Fans are hoping to announce the winner soon.