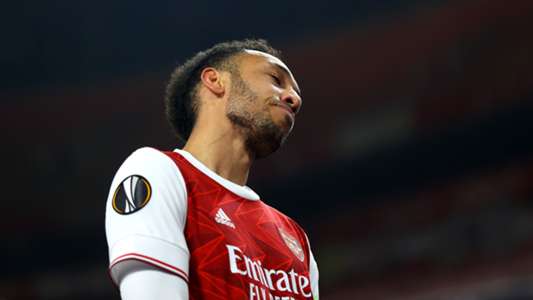 It should have been a lot easier for the Gunners in the Europa League the last 16 but a poor finish meant they lost the second leg to Olympiacos.
Match Statistics: Arsenal 0-1 Olympiacos
For the second time this week, Pierre-Emerick Aubameyang's timing was a little out of sync.
The Arsenal captain was back in the squad against Olympiacos – having been sidelined against Tottenham for being late – but the Gabon international looked to be still far from the beat.
Aubameyang endured a miserable night in front of goal, missing several excellent opportunities to put the game to bed for his side and send them to the Europa League quarter-finals.
Instead, they had to endure another nervous night against the Greek champions north London as they advanced to the last eight 3-2 on aggregate, despite losing 1-0 on the night.
"I hope not, we are gone from there," Mikel Arteta said after the game, when asked if his captain still had thoughts in his head about what had happened this weekend.
"He started the game and we expect when he plays he will be at the level he can.
It has been just over a year since Olympiacos knocked out Arsenal at the Emirates Stadium and kicked them out of that competition in the first knockout stage.
Memories of that dramatic evening are fresh on everyone's mind since this season's draw has once again paired the two teams, but Arsenal's 3-1 victory in Greece last week has ensured them. to have a lot more tampon this time around.
And they needed it, with the visitors threatening to return when Youssef El-Arabi – last season's scorer – gave Olympiacos a 1-0 lead at the start of the second half.
But it was as good as it was for the visitors, who never really wanted to add to their lead in the later stages.
The two-run victory will heal some scars for Arsenal and ensure they have progressed to the Europa League quarter-finals for the third time in four seasons.
But it wasn't pretty, with Arteta's side showing once again how hard they are trying to see a game come out.
And the Gunners boss knows things have to improve if they are to continue to progress in the later stages of the competition.
"I'm happy because we finished and we went to them last year," he said. "But if I have to assess the performance, what we did today with the ball is far from the standards we set for ourselves and we made it really difficult.
"When you give the number of balls we made, you don't have the control you need to handle the tie the way you should. And that also relates to the number of chances we missed again. "
Arsenal got completely lost in the final 15 minutes against Spurs this weekend and almost threw up a game they had completely dominated.
Arteta admitted after this game that his side had handled the finals 'really, really badly' and called on his players to avoid making the same mistakes against Olympiacos.
But after El-Arabi gave the lead to Olympiacos that night, it was a case of the same old story for Arsenal.
They just couldn't get the game under control and while they never really seemed to concede again, Arteta is well aware that his team need to improve massively to continue and win the competition.
"We are really happy to have finished," he said. "This is another step forward as a team. I hope we can learn some lessons as well.
"We beat two good teams at Benfica and Olympiacos, but the next one will be even more difficult I think."
It wasn't like Arsenal didn't have the chance to calm their nerves. In fact, they had a lot, but a series of terrible hiccups ensured the game was a lot more tense than it should have been.
Aubameyang was the main culprit, missing a golden chance in either half and seeing another close range effort prevented by Olympiacos goalkeeper Jose Sa.
Nicolas Pepe should have scored as well and an incident, when his goal-bound shot deflected after hitting Emile Smith Rowe in the face, summed up Arsenal's night.
They made it a lot harder than they should have been. But the important thing is that they are still alive to fight another day.