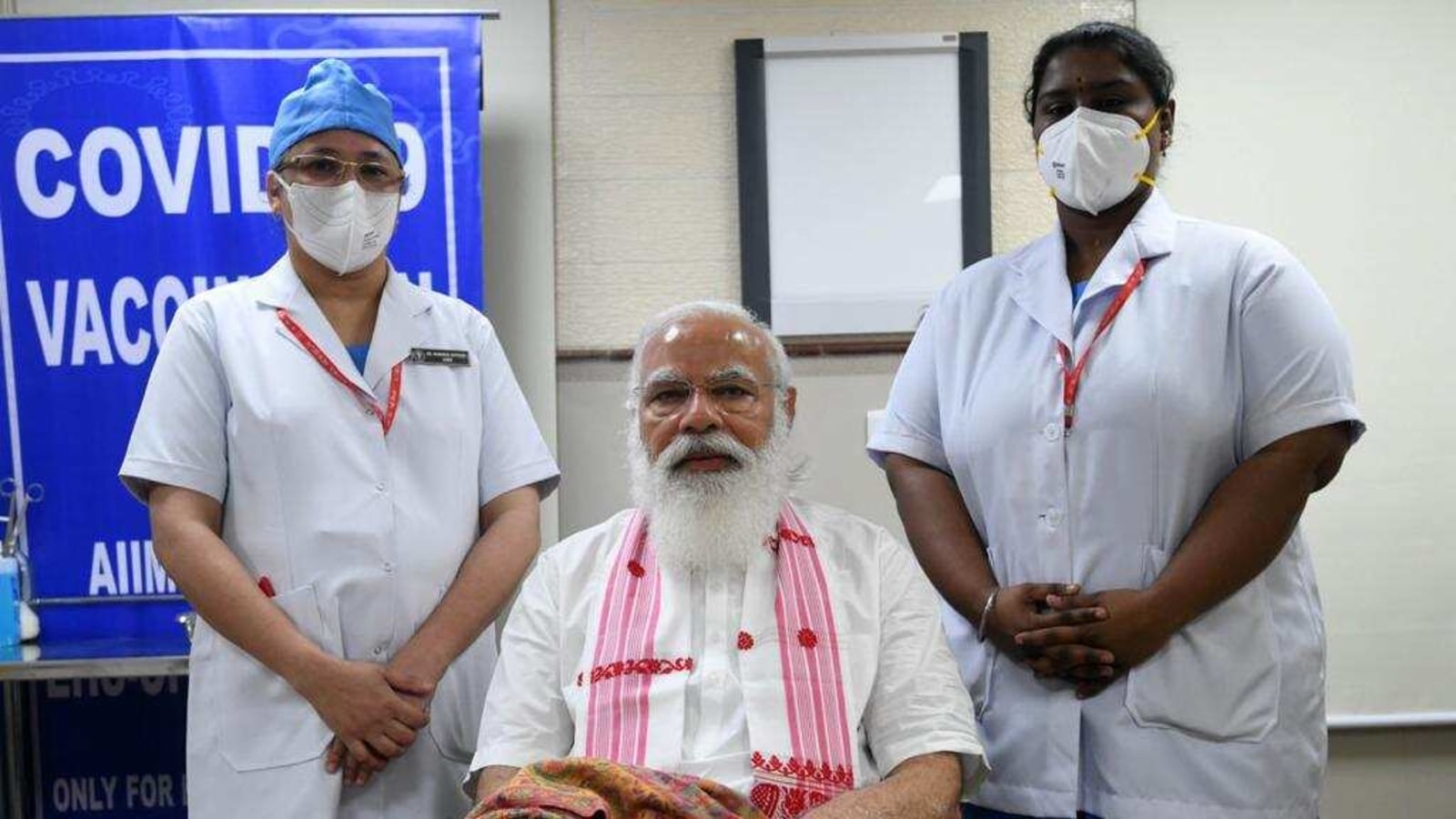 The Prime Minister shared a photo on Twitter showing two health workers administering the Covid-19 vaccine to him.
Dressed in the traditional Assamese gamosa and a white kurta, a smiling Prime Minister Narendra sat down to be vaccinated against coronavirus disease (Covid-19) at the Indian Institute of Medical Sciences (AIIMS) in New Delhi Monday morning. As health worker P Niveda, originally from Pondicherry, administered the first dose of the vaccine to PM Modi, a second nurse from Kerala was seen behind them in a photo he tweeted. PM Modi, who praised the vaccines made in India, received the vaccine developed by Bharat Biotech, based in Hyderabad.
The 70-year-old Prime Minister wore the traditional gamosa throughout the Covid-19 pandemic and has been seen also using it as a face mask to create awareness of the mask during the lockdown induced by the first wave of Covid-19. He tweeted saying he took the first dose of the Covid-19 vaccine as the country began the second phase of its vaccination campaign. He also praised doctors and scientists. He also urged those eligible to get vaccinated.
The Prime Minister reached AIIMS at 6:25 a.m. Monday morning and did not take any special routes. PM Modi also ensured that commuters, who often face heavy traffic on the inner ring road adjacent to AIIMS when commuting to work or returning home, have no issues on Monday mornings.
The Center said citizens over 60 and those over 45 with co-morbidities will now be able to get vaccinated against Covid-19 in public or private hospitals.
The Center also said that eligible citizens can get vaccinated in three ways: pre-enrolled self-enrollment, on-site enrollment, and facilitated cohort enrollment. University medical hospitals, district hospitals, sub-divisional hospitals, community health centers and primary health centers have also been transformed into Covid-19 vaccination centers (CVCs), according to a statement from the Ministry of Health.
India, which has reported more than 11 million cases of coronavirus disease, began its vaccination campaign on January 16 by vaccinating healthcare and frontline workers.
Thank you for subscribing to our daily newsletter.
To close