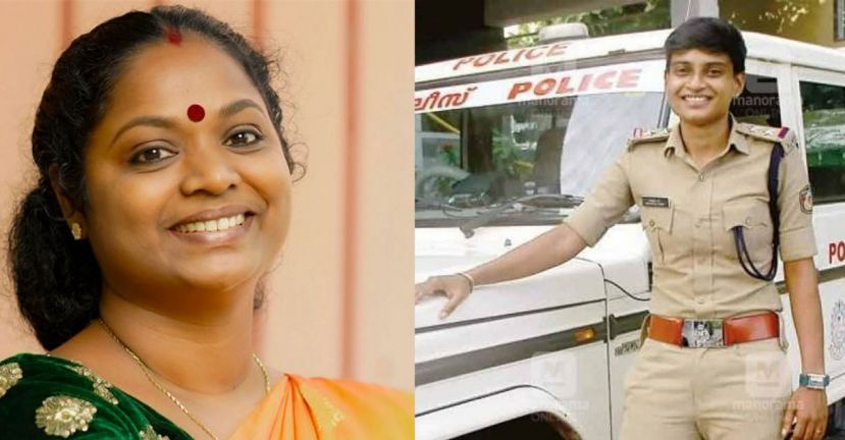 Kottayam: Anne Siva, who got into the news as a sub-inspector after overcoming the crisis, was called to the office of CK Asha MLA during her presidency and saluted. CK Asha said the campaign was wrong and SI Annie Siva would not comment on the incident. BJP leader Renu Suresh posted about this on social media.
BJP state secretary Renu Suresh said on Facebook that he heard that there was a Left MLA in Vaikom who had shown that he could treat Annie Siva so badly. According to a Facebook post, Annie Shiva called the MLA the next day and saluted her when she saw the MLA on her way to the residence after night duty. The incident took place before the election when Anne Siva was working as a probation SI at Vaikom police station.
CK Asha says: 'The incident took place one night before the assembly elections. He saw a man in an NCC uniform walking alone and stopped the car and asked where he was going. She replied that she was going on duty. When asked what duty the NCC had for the children, he said it was the SI. They also asked me back if the police had a specific time. The name was mentioned when asked three times. When asked if he understood me, he replied that he was looking for duty for your event.
Vaikom informed the DySP and the CIA about the incident that night. No reply was received. The complaint was lodged with the Chief Minister. Later, Vaikom CI came to my house with Annie Siva. Annie Siva said at the time that she did not realize she was an MLA. The driver of the police vehicle was angry at the delay in arriving. That's why they said it happened. We broke up in friendship. ' But 'I don't know about this. I will not respond ', was the response of Anne Siva.