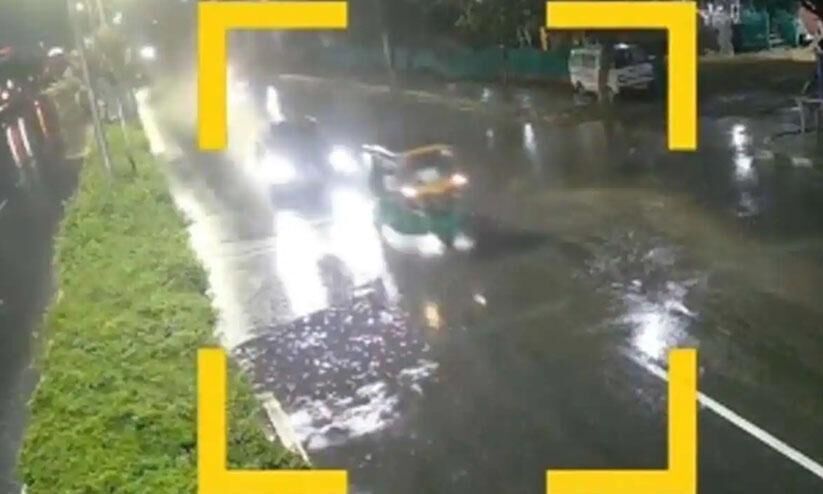 Hyderabad: A man was killed in a head-on collision with a speeding luxury car in Hyderabad. The driver of the car came to take charge but the real culprit was picked up by the police. The accident took place in Hyderabad on Sunday night. The Audi car was speeding in heavy rain when it hit the back of an auto. Umesh Kumar (37), a resident of Begumpet, was killed when his car overturned several times. Auto driver Sreenu escaped with injuries. Umesh, a worker at Prism Pub, was returning home after work.
The accident took place near Inorbit Mall in Mathapur area. The Cyberabad traffic police on Tuesday released CCTV footage of the incident. The driver was Sujith Reddy, 24, a civil engineering student. His friend Ashish, an employee of HCL, was also in the car. Both were arrested by the police. Police also arrested Raghunandan Reddy, the owner of the car and Sujith's father. After the incident, Raghunandan hid Sujith and Ashish in a flat in DD Colony.
Reckless speed and drunk driving of an Audi car kills a passenger (an employee of Prism Pub !!) in the auto yesterday early morning near Inorbit Mall.

A case of culpable homicide not amounting to murder has been booked against the Audi driver and his associates.#RoadSafety pic.twitter.com/vhJfsiL9cS

– CYBERABAD TRAFFIC POLICE Cyberabad Traffic Police (@CYBTRAFFIC) June 29, 2021
He was produced before the court on the pretext that his driver was Prabhakar. Prabhakar, 55, pleaded guilty. However, the move was foiled by police who identified the driver of the car as a young man from the CCTV footage at the scene of the accident. CCTV footage showed them removing the number plate from a car parked 100 meters after the accident and beating a security guard who tried to stop them. When questioned, police officer Ravinder Prasad said that when Sujith and Ashish were questioned, they came after attending a party and found that they were both drunk.
The car was completely destroyed in the accident. Auto driver Sreenu said he bought the car only four months ago and lost his livelihood with three daughters. Last week, a woman was killed and five others were injured when a Mercedes SUV collided with an auto in the Old City, Hyderabad. The owner of a car with Maharashtra registration tried to escape with his family but was caught by the police.