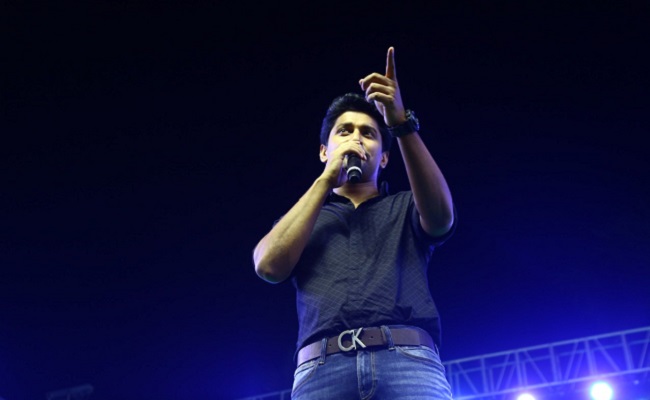 Nani's first Tuck Jagadish promotional event called Parichaya Vedika which is the first of its kind in Tollywood is held at Rajahmundry and it is a big success with a huge crowd attending the function.
Director Shiva Nirvana said: "I thank my producers who gave me the same support during the Covid era. It will be a pleasure to watch brothers Nani and Jagapathi Babu together. It's full package advertising and entertainment with family emotions. Nani will appear in another avatar. I will reveal to you a dialogue in the film: Kondariki kula pichi, kondariki dabbu pichi untundi, kaanee naaku kutumbam ante pichi.
Nani said, "I recently announced that I am coming to Rajahmundry for the function. But I've been touring here for Shyam Singha Roy for a week. While filming, a fan warned me saying that if I don't accept the selfie with him, he won't allow filming there.
Tuck Jagadish does not go out without receiving his mother's blessing. Likewise, I also feel like I receive my mother's blessings before attending a promotional event. Since my mother is not here, I will receive a blessing from one of the mothers here. "
Nani then introduced all of the actors and their characters in the film starting with Nasser as her father Adi Sesha Naidu.
"My mother Arjunamma, my brother Bose (Jagapati Babu), Devudu Bava (Rao Ramesh), Sattibabu Bava (Naresh), Kumarakka (Rohini), Gangakka (Devadarshini), niece Chandra (Aishwarya Rajesh) etc."
Click here for the photo gallery
Click here for the latest Direct-to-OTT versions (list of daily updates)