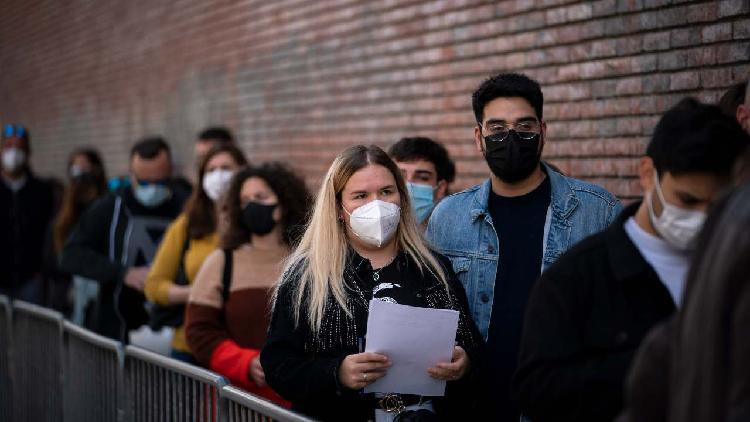 People line up to take a COVID-19 test the same day before attending the musical concert. / AP / Emilio Morenatti
People line up to take a COVID-19 test the same day before attending the musical concert. / AP / Emilio Morenatti
An estimated 5,000 people are participating in a mass study on COVID-19 by attending a concert in Barcelona, ​​Spain on Saturday.
All music lovers are required to take a coronavirus test the same day before entering the site to determine how effective mass screenings and masks are in stopping the spread of the virus at large gatherings.
The Catalan group Love of Lesbian received special permission from the Spanish health authorities to perform for this event, supported by the Foundation for the Fight against AIDS and Infectious Diseases of Barcelona, ​​which organized a similar study in December.
In this study, 500 people attended a much smaller concert to determine the effectiveness of the tests on the same day. But once the attendees entered this hall, they were allowed to mingle without social distancing to mimic the atmosphere of an actual concert.
The results of this study were encouraging, showing that the masks and tests were effective in preventing the spread of COVID-19.
This new test, 10 times larger than the December study, and "is another small step towards the possibility of hosting concerts and cultural events" during the pandemic, said Boris Revollo, a virologist involved in the study.
Participants must take a test at one of the three locations around Barcelona to attend the event. Those who tested negative were given a code that would allow them to attend the show at 7 p.m. local time on Saturday night.
People get tested for COVID-19 before attending the show in Barcelona. / Emilio Morenatti / AP
People get tested for COVID-19 before attending the show in Barcelona. / Emilio Morenatti / AP
People with pre-existing health conditions, such as cancer and heart disease, were asked not to attend the event, as were those exposed to COVID-19 in the weeks leading up to the concert.
The show is sold out, and this is the first concert of its size to be staged in Europe during the pandemic, organizers say. In other parts of Spain, gatherings are limited to four people or less in confined spaces.
Participants also agreed to allow public health authorities to notify organizers if they test positive for COVID-19 after the performance.
The team will then compare those results to the results of the general public to determine if there is a spike in positive tests due to the concert, or if this method can safely prevent the spread of the virus.
Source (s): AP