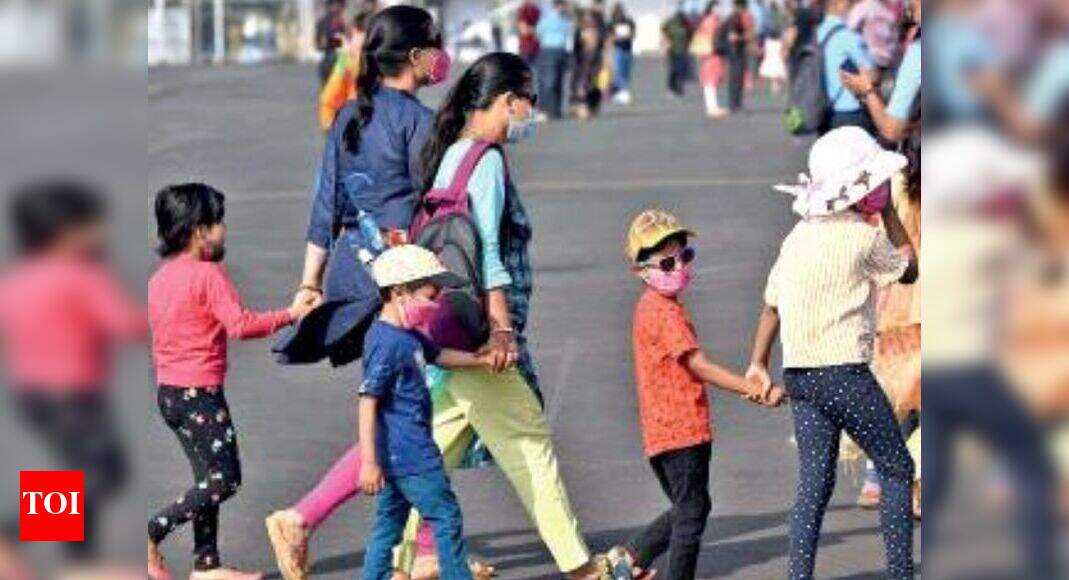 BENGALURU: As the number of Covid-19 cases increases in Bengaluru, more and more young children are testing positive. This month, 472 children under the age of 10 were diagnosed with the infection, and the number is expected to cross 500 over the weekend.
Experts say the second wave hit children hard because, unlike last year, many are spending time outdoors. Families, in general, move much more, which has increased the chances of transmission.
A member of the state's technical advisory committee on Covid-19 told STOI he was not surprised by the growing number of infections in children. "A year ago cases in children weren't as high because they weren't exposed to the virus. During the lockdown, they were confined to their homes. Now they are visiting parks or playing in the common areas of their apartment complex, "the MP said, adding that children could become carriers of the coronavirus.
Of the 472 cases in this age group this month, 244 are boys and 226 are girls. Experts say it is difficult to get children to wear masks correctly and to track physical distance. "When they accompany their parents to events like weddings, they are part of the crowd. In these contexts, they are the most vulnerable, "said the committee member. Although children do not attend regular classes on campus, many join dance, music and art workshops and play sports.
In the first week of March, civic agency BBMP recorded eight to 11 cases of Covid-19 per day in children under 10 years old. Over the past week, cases have ranged from 32 to 46 cases per day.
"We see children complaining of fever, vomiting, abdominal pain and loose stools. These symptoms disappear within a few days. When we ask parents to get children tested for Covid, they refuse, "said Dr Shivaprakash Sosale C, co-secretary of the Indian Academy of Pediatrics, Karnataka section.
According to Dr Prakash Vemgal, chief of pediatrics at Rainbow Children's Hospital on Bannerghatta Road, most children with coronavirus infections live in containment areas and are usually asymptomatic or have mild symptoms. There is not a huge demand for children's hospital beds. "The children have a typical viral infection. We ask parents to come in after three days if symptoms persist. We hardly saw a case where they came back, which means the children have recovered, "said Dr Vemgal.
Earlier this month, the technical advisory committee suggested the temporary closure of play areas in parks and clubs, gyms and apartment complex swimming pools in neighborhoods with high positivity rates. He also recommended suspending classes on campuses at all lower levels. The state government has yet to act on the recommendations.
"All non-essential offline courses – those that don't have a public exam – shouldn't take place in the midst of an outbreak of infection," said epidemiologist Dr Giridhara R Babu, who is a member of the committee. He added that there was a difference between playing with a known group and attending classes in closed schools, where the risk of infection was higher.