India
oi-Swaroop Tk
Chennai: A 22-year-old engineer was found dead inside the IIT Madras campus. The body belongs to Unnikrishnan, a Malayalee project coordinator and a native of Ernakulam. The body was found around 8 last night. The students were spotted near the hockey ground on campus. A bottle was found near the body. It is believed that the fire was started using petrol brought in it.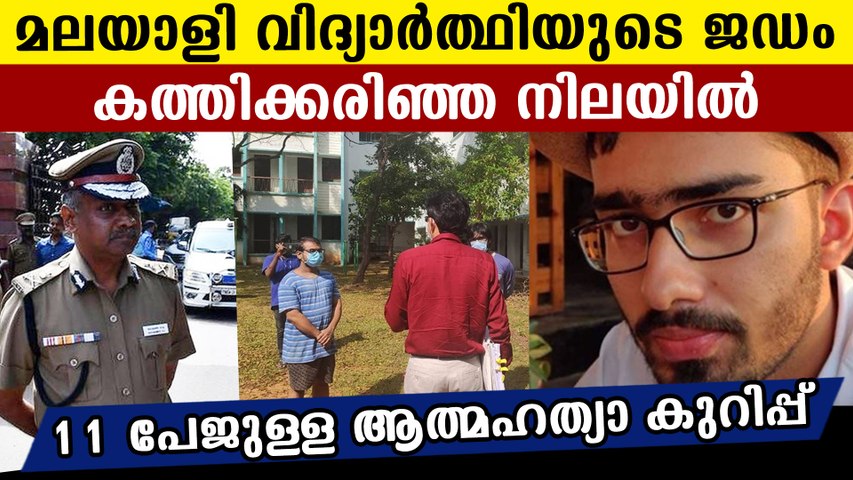 kerala student unnikrishnan nair lost life in Madras IIT | Oneindia Malayalam
100th Anniversary of the Chinese Communist Party: Protest in front of the Chinese Embassy
Police say the initial investigation was a suicide. The bodies of people between the ages of 20 and 30. According to sources, Unnikrishnan is the project coordinator at IIT. He completed his B.Tech in April 2021 and joined IIT Madras as a Project Associate and Guest Lecturer. He arrived in Chennai from Kerala last morning.
The boy, who looked like a son, seemed to be attracted to that powder keg; Manju Peter in the news that came with Fukru
Kotturpuram police initially said that it was difficult to identify the body as it was burnt. The body has been sent to a government hospital for post-mortem. Meanwhile, India Today quoted police as saying that an 11-page suicide note was found in Unnikrishnan's room. Indications are that no one's name was mentioned in the suicide note. Police have registered a case in the incident. Unnikrishnan's father is an ISRO employee. Unnikrishnan lived in Velalachery, Chennai.
At the same time, the letter states that mental stress led to the suicide. But the letter does not mention anyone's name or anything else. Two people were staying in the room with him.
I cried that day, I was responsible for the situation that Rahul Gandhi faced; Remya Spandana openly said
Rokkibhai Yash's Home Entrance: Star-studded pictures with family in spacious home
English summary
22-year-old Malayalee engineer Unnikrishnan Found Dead In IIT Madras Campus